Text BPOIL to 77453
to get health and info text alerts regarding BP. 
Avoid type-correct!! Do NOT allow a space between BP and OIL
or you will not be subscribed!
The lawyers of British Petroleum, a foreign-owned company, argued in court in 2012 that they would reserve compensation under contract provisions reserved for latent injuries, such as cancer, which might develop years after someone comes into contact with the spill and Judge Barbier reluctantly agreed. So if British Petroleum knew this, then why were the clean-up workers and the medical community not properly informed so they could both seek life saving measures BEFORE the cancers would show up? Doesn't it seem to you that the plaintiff's lawyers would have insisted on an effective medical screening, monitoring, and protocol advisory to protect future victims?
Learn More
9/6/2018 Lafitte Meeting
The 30 min documentary of Oil & Water Don't Mix - Part 2: Disappearing Victims premiered in Lafitte Civic Center Thursday September 6, 2018. Lafitte is a small town and the premiere was at the same time as the Falcons vs Eagles, yet about 70 victims attended. They all stayed about 2 hours after the movie and found comfort in each other as they shared the stories of their personal injuries and hardships as a result of their exposure to the BP oil and corexit. This premiere will be touring the lower parishes to help anyone who worked on BP who got sick and/or died, and never even attributed it to BP exposure, connect the dots.
Oil & Water Don't Mix - Part 2:
Disappearing Victims - 3 min trailer
The above film clip is a trailer for the 30 minute documentary that will be featured in town hall meetings in the lower parishes. In this trailer you will see how 3 victims suddenly get ill, the docs couldn't figure out what the illnesses were so the victims had to suffer through unnecessary testing in pursuit of their diagnosis. General Honore, an advocate for the victim's plight, points out that the US almost went to war with Syria for dropping chemical weapons on their own people, but a foreign entity can drop one on Louisiana with little consequence and somehow that's OK.
On May 31, 2018, the Louisiana State Senate signed a resolution to encourage British Petroleum to institute medical monitoring and treatment, and to publish advisory medical protocols. They also noted that Louisiana residents were exposed to the Corexit dispersant, which is a chemical banned in Britain, yet these chemicals were forced upon us in never before seen quantities.
See Senate Resolution 16
"British" Petroleum Response
As people get sick and die, you would expect that British Petroleum would have a vested interest in the urgency of keeping them informed to avoid this consequence.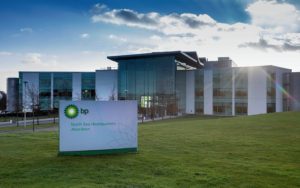 But, if they get sick and die quietly, never connecting the dots that their exposure to British Petroleum's toxic gases and Corexit as the cause, even 8 years later, perhaps that is a better money savings strategy for British Petroleum.
So far, British Petroleum seems to be silent in response to setting up a REAL medical screening and monitoring, and publishing a protocol advisory as requested by the Louisiana State Senate, instead of the SHAM they invested in to save themselves millions, maybe billions, in healthcare costs.
Since the oil spill, the Garretson Resolution Group, specifically Matt Garretson, has been the claims administrator for the British Petroleum Oil Spill. He said he approved $105 million in grants to Gulf Coast community-based health organizations, which were expected to help some of the claimants get better medical care. He had also said that claimants can also participate in free ongoing clinical screenings as a part of the settlement Garretson runs.
But according to Dr. Michael Robichaux and toxicologist Wilma Subra, the real list of health symptoms associated with BP crude and dispersants does not match the health list devised by BP. are easily treatable and cost effective such as a runny nose and facial pressure and vastly different than those observed by Dr. Robichaux. He said, "They came up with a list of illnesses that were at very best chicken shit (for lack of a better expression)." According to Ms. Subra, "My estimate along the coastal areas is hundreds of thousands of people are ill as a result of their exposure. If you take the health symptoms and you look at the health symptoms in the settlement, they don't match. So as a result of this, the people who are being made very ill by being exposed are not part of the settlement. The other piece to this is BP was allowed to put together a large package to provide health care in LA, MS, and AL. Primary healthcare. Now, LA and MS are at the bottom of the list of health care, primary health care, and we don't doubt that. But BP was allowed to put money into primary health care and the criteria excluded the health symptoms that were the result of the exposure to crude."